Tropical Diving : expert of diving in Nosy Be
Our dive center was one of the pioneers of diving in Nosy Be, in the North-West of Madagascar. Long established on the island, we specialize in daily diving throughout the Nosy Be archipelago.
We focus first on quality service and diving in small groups.
Our experience of Madagascar waters, together with a reliable organization, an expert home team, and excellent safety records, gave us over time a solid
reputation of professionalism.
Expect your diving to be well organized, safe and fun.
Diving in Nosy Be : experience the best of Madagascar
Diving in Nosy Be is an experience off the beaten tracks, away from mass tourism. 
The archipelago, with dozens of wild islands and pristine coral reefs scattered in the Mozambique Channel, is a vast area for adventure. It remains a diving paradise, still unknown and preserved.
Over 20 different dive sites offer diving
on beautiful spots :
Drop-offs, shipwrecks, Nosy sakatia reefs, Nosy Iranja, Nosy Tanikely Marine Park, etc...
From delicate macro life to biggest mammals, Nosy Be waters shelter a stunningly diverse marine biodiversity.
Tropical Diving is offering :
Fun dives in small groups
  We go for 2 dives on 2 different spots in the morning, on all the best dive sites throughout the Nosy Be archipelago. All dives are guided / supervised by our expert instructors / divemasters.
Our dive boats are especially designed for diving. Each boat takes a maximum of 6-8 divers.
Discover Dives are organized at the wonderful Nosy Tanikely Marine Park.
A special one day dive trip to Nosy Iranja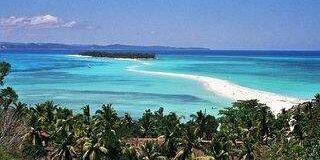 A visit to the paradise island of Nosy Iranja is an experience not to be missed.
A 1 day / 2 dive trip (1h30' navigation time) including lunch in the village on the island.
Can be organized with a minimum of 4 divers and good weather conditions.
Amazing whale shark encounters !
Whale shark season in Nosy Be waters starts in october and lasts until the end of november-beginning of december.
They are mainly spotted close to the surface during navigation times to dive sites.
Going in the water with the world's biggest fish is an unforgettable experience !
A choice of accommodation