Nosy Be Dive Sites : diving off the beaten tracks
20+ pristine dive sites to discover
Nosy Be dive sites are home to a marine life unrivaled in beauty and diversity.
The archipelago warm waters shelter over 400 healthy coral species, and a full range of tropical reef fauna, from microscopic life to huge whale sharks and humpback whales.
Our home team is diving all the best spots throughout the archipelago.
We can also organize a 1 day / 2 dive trip to the wonderful Nosy Iranja island.

* DOLPHINS *
are often encountered during navigation time to dive sites
(all year round)
* HUMPBACK WHALES *
are breeding throughout the archipelago from august to october.
* WHALE SHARKS *
are feeding in Nosy Be waters in october and november.
We organize unforgettable snorkeling sessions with them during surface intervals.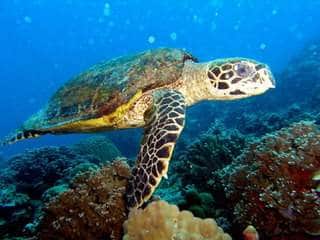 Navigation 20' / Depth 2-22 m
3 main dive sites providing different environments, offer a stunningly diverse underwater ecosystem. You will find all the range of corals and reef fishes, and turtles, big groupers, wahoos and jacks, as well as big shoals of snappers, fusiliers, damsel fish, etc.
Nosy Tanikely is a protected natural aquarium, for all diving levels.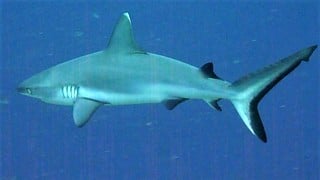 GRAND BANC (SHARK POINT)
Navigation 40' / Depth 16-30 m
Diving on the drop-off facing the Mozambique channel offers the opportunity to dive with grey reef sharks, white tip reef sharks, and sometimes hammerheads. It' a wonderful dive along the drop-off with big shoals of snappers and fusiliers, and occasionnally wahoos and yellow fin tunas.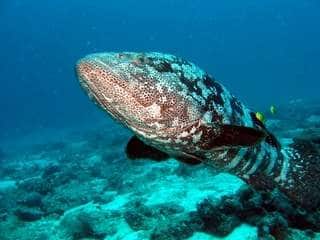 NOSY SAKATIA : CHAMEAU, LOUIS, ANKORA, THE ARCH
Navigation 30' / Depth 12-28 m
These reefs off Sakatia island are reputed for their variety and profusion in marine life.
Gorgeous corals and prolific fish : jacks, wahoos, angel fish, crocodile fish, blue spotted sting rays, nudibranch, leaf fish, scorpion fish, friendly titan trigger fish, and sometimes white tip sharks.
It's also one of the best areas for meeting whale sharks in october and november.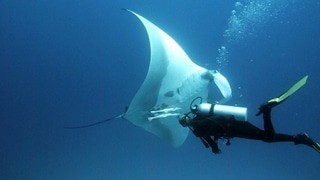 MANTA POINT
Navigation 30' / Depth 16-24 m
A large sandy plateau, spotted with lovely corals pinnacles. The spot is famous for occasional encounters with big manta rays. The pinnacles are hosting all the diversity of corals and reef life, particularly extensive clusters of glass fish.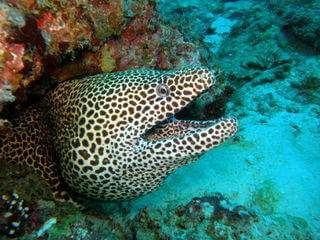 ROSARIO
Navigation 25' / Depth 12-20 m
A large plateau with impressive series of big sea fans, and thousands of colourful small coral pinnacles, hiding an amazing profusion of small reef life.
The place is also well known for its whale shark encounters in october and november.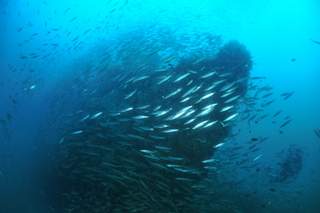 THE "MITSIO" WRECK
Navigation 10' / Depth 26-30 m
The wreck of this fishing boat, voluntarily sunk in 2007 has created an amazing concentration of fish inside and outside the wreck. Huge shoals of sardines and fusiliers, walls of yellow snappers, lion fishes, scorpion fishes, moray eels, groupers, nudibranches, crocodile fish, shoals of jacks and barracudas, and schools of batfishes on ending the dive.
One of the "must" dive sites of Nosy Be.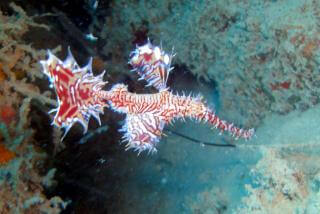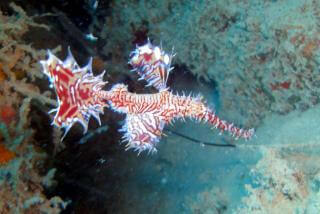 BANC DES GORGONES
Navigation 10' / Depth 12-20 m
A very particuliar reef, with spectacular series of big sea fans and coral formations, offering a kind of unrealistic scenery. Blue spotted sting rays, crocodile fish, stone fish, trumpet fish, pipe ghost fish, nudibranches, cleaner shrimps, etc.
The spot is also known for its schools of snappers and its huge resident green turtles.
CANYON
Navigation 40' / Depth 20-45 m
3 enormous coral blocks, at the bottom of the drop-off facing the Mozambique channel, have created a very special landscape, with canyons around the blocks, covered with series of amazing giant sea fans (one of them is about 4 m wide) . Among all of Nosy Be dive sites, it is unique in its topography and its breathtaking scenery. For experienced divers.